Monday 4 April 2016
Essex County Council as Lead Local Flood Authority has been a statutory consultee in relation to surface water drainage for major developments since 15th April 2015.
Major developments are defined as development involving:
the winning and working of minerals

waste development

10 or more dwellings or where not specified, a site area of 0.5ha

Providion of a building where floor space is 1,000 square metres or more

Development carried out on a site over 1ha.
In undertaking the role, the LLFA checks:
Up to the 14th April 2016, taking a whole year's data, we received 759 consultations relating to approximately 500 planning applications. These can be broadly split into the below categories: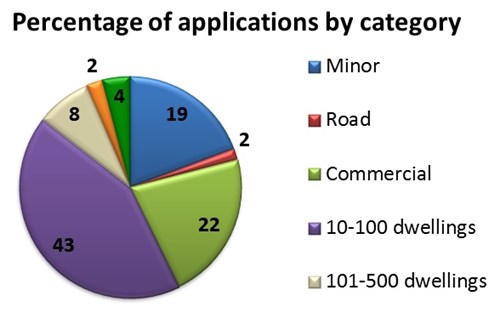 Applications are checked for compliance with our policy set out in the ECC SuDS Design Guide available at www.essex.gov.uk/flooding. We also have a pre-application process which has proved successful where subsequent planning applications are received. The Environment Agency remain the statutory consultee for sites in Flood Zones 2 & 3, in areas of contaminated land and which may impact on Groundwater Source Protection Zones.