Friday 17 February 2017
On the 2nd of February 2017 volunteers form Essex County Council and Essex Fire and Rescue teamed up to clear a ditch in Great Baddow, Essex.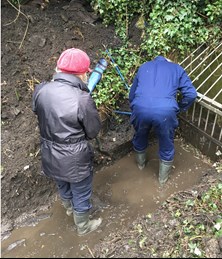 Work involved the maintenance and re-grading of the existing channel in conjunction with the clearing of the trash screen. The event was a complete success and the watercourse is now free of obstructions.
Thank you to all the volunteers from ECC and EFRS who attended and helped clear the ditch.
If you are interested in becoming a volunteer, please email floods@essex.gov.uk .
%MCEPASTEBIN%