Essex County Council (ECC) has recently delivered an award winning flood protection scheme for 38 homes in the Kingsmoor area of Harlow, and in October 2018 the scheme won 'Small Project of the Year' at the British Construction Industry Awards.
A series of 'leaky dams' were installed in Parndon and Risden Woods, where timber and woody debris were positioned across water channels to slow down water flow during periods of heavy rainfall.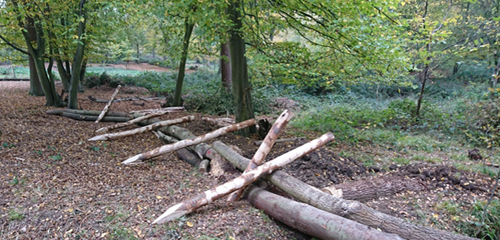 A Leaky Dam ready for Construction – photo credit: Tom Palmer / ECC
Leaky dams were chosen for this scheme as they minimised disruption in the woodland area and enabled the preservation of natural habitats.
They have a much lower carbon footprint than conventional flood projects as they are a natural way to reduce flooding and installed using heavy horses.
If an earth bund method was used, 40 trees would have been removed, 236 litres of diesel would have been consumed, and 561km would have been travelled by vehicles transporting materials to and from the site.
Roy the heavy horse – photo credit: Patrick Bailly / Harlow District Council
The project was led by ECC's Flood Team working in partnership with Harlow District Council, Place Services, Jacobs and the Environment Agency. By using the leaky dam method, it's estimated we saved approximately £38,000 and 95 tonnes of Co2 equivalent. 
For more information please email us.
Was this page useful?
Give feedback about this page (opens in a new window)