What are leaky dams and why are they useful?
Leaky dams are a form of Natural Flood Management (NFM). Barriers made of natural woody materials are laid within water channels and allow normal base-flows of water to pass through. When flood flows are higher, they create an obstruction to reduce the flow. They are designed to reduce the downstream flood peak by temporarily storing water by holding it back within the stream's channel or encouraging it to spill onto the banks behind the barrier and slowing the flow.
Leaky dams typically a much lower carbon footprint than alternative flood mitigation methods, minimise disruption in the woodland area, enable the preservation of natural habitats while creating new riparian habitats.
Leaky dams in Harlow
Essex County Council (ECC) delivered a flood protection scheme involving a series of 'leaky dams' in Parndon and Risden Woods to slow the water flow during periods of heavy rainfall. The scheme protects 38 homes in the Kingsmoor area of Harlow and won 'Small Project of the Year' at the British Construction Industry Awards in 2018. The project was led by ECC's Flood Team working in partnership with Harlow District Council, Place Services, Jacobs and the Environment Agency.
By using the leaky dam method, it's estimated we saved approximately £38,000 and 95 tonnes of Co2 equivalent. If a more conventional earth bund method was used, 40 trees would have been removed, 236 litres of diesel would have been consumed, and 561km would have been travelled by vehicles transporting materials to and from the site. To minimize disruption a heavy horse was used to move the logs.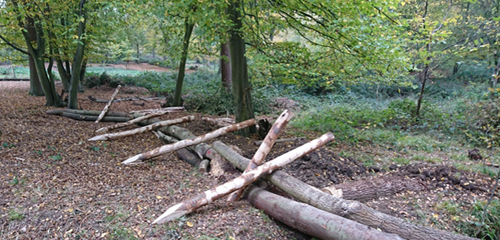 A Leaky Dam ready for Construction – photo credit: Tom Palmer / ECC
Roy the heavy horse – photo credit: Patrick Bailly / Harlow District Council
Leaky dams have also been used in Flood Alleviation Schemes to protect homes in Sturmer and Thaxted.
Leaky dams in Country Parks
Thorndon Country Park
In 2020, Essex County Council delivered a Natural Flood Management Scheme at Thorndon Country Park in order to
reduce the flood risk to residential properties downstream.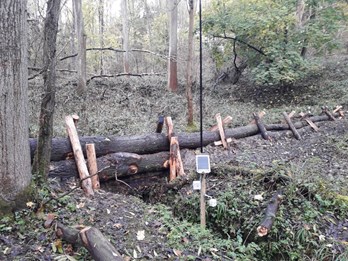 The NFM scheme aimed to slow, intercept and store water flow through 10 leaky dams. These dams sit along both tributaries in the Country Park, upstream of West Horndon.
Thorndon Country Park is a designated Site of Special Scientific Interest with Grade II Listed Parkland. This meant there were restrictions on which materials and methodologies we could use to reduce the flood risk. We adopted a sustainable approach to delivery and used fallen ash wood from the woodlands to create the dams. We also sourced some local hardwood oak. We shaped the wood and a Suffolk Punch horse moved it into position, and we secured augured stakes by hand. This meant we didn't need traditional machinery and we minimised our impact on the surrounding woodlands.
Leaky dams have also been built in Weald Country Park and Wivenhoe.
Was this page useful?
Give feedback about this page (opens in a new window)