In 2020, Essex County Council delivered a Natural Flood Management Scheme at Thorndon Country Park. The purpose of the scheme was to reduce the flood risk to residential properties downstream.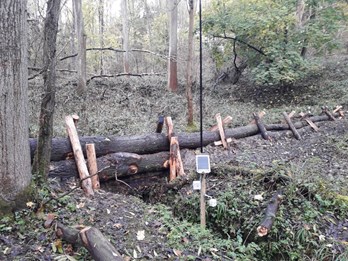 Our innovative approach aimed to slow, intercept and store water flow through 10 leaky dams. These dams sit along both tributaries in the Country Park, upstream of West Horndon.
Leaky dams are a form of Natural Flood Management (NFM). Barriers installed within channels allow normal base-flows of water to pass through. When flood flows are higher, they create an obstruction to reduce the flow. This blockage creates a localised storage of water, which reduces the speed and volume of water flowing downstream.
Thorndon Country Park is a designated Site of Special Scientific Interest with Grade II Listed Parkland. This meant there were restrictions on which materials and methodologies we could use to reduce the flood risk.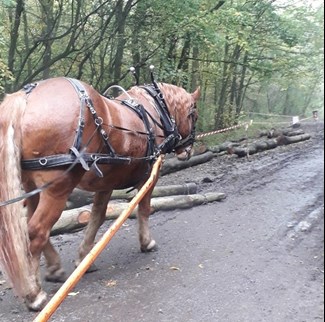 We adopted a sustainable approach to delivery and used fallen ash wood from the woodlands to create the dams. We also sourced some local hardwood oak. We shaped the wood and a Suffolk Punch horse moved it into position (pictured), and we secured augured stakes by hand. This meant we didn't need traditional machinery and we minimised our impact on the surrounding woodlands.
The NFM measures enhance the natural environment while simultaneously reducing flood risk. The leaky dams created new habitats within the watercourse. The changes to the flow and storage of water create even more riparian habitats. We've been able to enhance biodiversity in the park while reducing the risk of flood to nearby residential properties.
For more information, please email us.
Was this page useful?
Give feedback about this page (opens in a new window)