Essex County Council (ECC) is working with Basildon University Hospital to retrofit Sustainable Drainage Systems (SuDS) in the hospital to increase resilience to surface water flooding.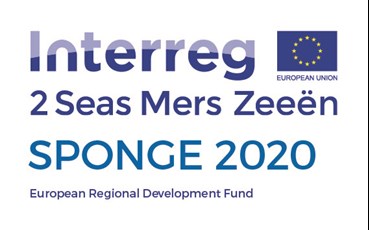 SuDS are an approach to managing rainfall that replicates natural drainage - they control the amount of surface water runoff entering drainage systems, increase the system's capacity and reduce or alleviate existing downstream flood risk.
Systems such as these provide a range of amenity benefits that create great places to live and work - they reduce water pollution and create green spaces and habitats that encourage biodiversity.
With efficient design SuDS can often cost less to implement than traditional underground piped systems.
This work is being delivered though our participation in "SPONGE 2020". SPONGE 2020 is a partnership between Dutch, British and Flemish local government and water authorities to work alongside local stakeholders in co-creating and implementing innovative climate change adaption solutions.
The initiative has received funding from the Interreg 2 Seas programme (2014-2020) which is part-financed by the European Regional Development Fund.
The project paves the way for a wide rollout of these solutions to reduce surface water flooding at considerably lower costs across the coastal regions of the Southern North Sea and the Channel area.
ECC's participation in SPONGE2020 supports the achievement of one of our Organisation Strategy priorities - "Help create great places to grow up, live and work", by reducing the impact of flooding whilst working with local communities to increase their resilience to flooding.
Basildon Hospital is located in a Critical Drainage Area within South Essex, an area within the top 10 at risk from pluvial flooding nationally.